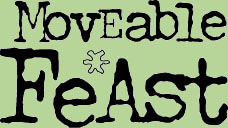 Interview with founder member Mitch Feral. 2006
Questions:

Tell us about your new single '(I Guess You'd call It) A Moveable Feast'.
It's a song we've been playing over the past year and a lot of people have responded warmly to it and asked if they could buy a recording. So, now we've made one which will be available in November. The lyrics are a celebration of the diversity and intergration of contemporary England and are available on this website (see Lyrics). I think the song sums up our musical and social approach. It also contains our name - MOVEABLE FEAST. So, it gets our name about when we repeat it....MOVEABLE FEAST...MOVEABLE FEAST...MOVEABLE FEAST....It's useful because a lot of the time at small festivals etc. the punters will have no idea who they are watching...so at least they might realise and remember we're called....what is it now?...I've forgotten...MOVEABLE FEAST.

Your new album 'Twelve Ballads' is available at Christmas.
Yes. This is a collection of songs that are more laidback and lyrical than a typical Moveable Feast set. It features myself on lead vocals and guitar and Jo Strimmer on harmony vocals and double bass. Lyrics for a couple of the songs are available on this website – 'Pebbles On A Beach' and 'Deborah Smiles When She Cries' (see Lyrics). They typify the style of this new album. It displays another side to MOVEABLE FEAST.

MOVEABLE FEAST usually gig as a five-piece with myself on guitar and lead vocals, Jo Strimmer on harmonies and double-bass, Lady Di on fiddle, Tomasz the Tune Engine on accrdion and The Mighty Paganini on drums and percussion. We can also have guest musicians on board sometimes, as on the 'Bella Siempre' album – Tony Chidgey on lead guitar or mandolin for example.

Do you also gig as a trio or quartet?
Yes, without Al on drums. That is how MOVEABLE FEAST usually perform our slower, more balladic concert material in folk clubs.

How would you describe your style of music?
MOVEABLE FEAST'S own original music is a lively mix of roots rhythms from all over the world – folk, latin, reggae, ska, gypsy, klezmer, jive, country, cajun and blues. We have the lively theatricality of street entertainers and buskers, but we do mainly our own songs which sometimes have a political and social edge and sometimes are just fun or lyrical.

Do you play for private parties?
Yes, MOVEABLE FEAST can play pop and traditional covers for private parties and functions (see Repertoire). We can also play a whole evening of traditional Irish, Scottish, Country or Latin music.


When did Moveable Feast start?
MOVEABLE FEAST began life in 1995 in New Cross, southeast London.I had not long finished touring my musical 'Barnstormers' when I decided to form a busking band.

What were the initial influences?
At the time I was heavily into the French/Algerian crossover band 'Les Negresses Vertes' who were mixing rai, reggae and musette in their own distinctinctive way and London crew 'The Pogues' mixing Irish traditional and punk and occasional bits of everything else. I was living with Spanish friends and we had Brazilian neighbours, so in all the mayhem and confusion, I thought it a good idea to mix the whole lot together – writing lyrics based on my experiences in London and borrowing rhythms and melodic styles from all the communities around me.

I played rudimentary rhythm guitar and had a few songs written and I advertised in 'Loot' for a fiddler and accordionist. First to turn up was a lanky geezer from Penge called Ged Kennet. He played a mean fiddle. We clicked instantly and decided to look for other players – and he also moved into a spare bedroom in the house – which was the way back then. About a week later, Ged went busking in Worthing and bumped into another busker on accordion – and that's how 'Flossie' Warner joined up and MOVEABLE FEAST was born.

What were the first recordings?
Myself and Ged and Flossie got a local drummer, bassist and percussionist and MOVEABLE FEAST recorded a short demo Barrio Pobre, Passez-Moi La Bouteille, Je t'embrasse and Government of Criminals at Sparks Studios in Clapham – it was run by Tony Chidgey who plays lead guitar on the 'Speak in Dreams' CD. As a trio the band picked up a few folk club and pub gigs around south London, but most weekends were spent busking in Portobello Market on a Saturday and Greenwich Market on a Sunday. After a year or so, Ged dropped out to become a blacksmith in Hampshire and MOVEABLE FEAST was joined by Rachel Hewitt – a regular of the Lewisham folk session scene. And soon after that by Jo Oulton a.k.a. Jo Strimmer on double-bass.

The whole idea of the music was to mix together latin and reggae and folk and musette – anything we wanted really – after all, when you move around London, that is what you hear – a whole medley of different rhythms and styles from around the world. After you've lived here for a while in different areas, amid different communities, it's only natural to mix them up. I don't believe in ethnic purity or traditional authenticity. I think that is a myth. All music – even the most traditional folk – is a fusion of influences and instruments that have travelled for centuries. One way or another we are all Creole. But when you mix these things together, it's not easy to describe – and people often want a snappy answer or a simple label to get a hook on things – especially record labels or venue managers. We were chatting one day and somebody asked about the style of our music and I think it was Ged who said "it's a kind of moveable feast". And it seemed to fit – so we took MOVEABLE FEAST on as a name. The expression ' moveable feast' originally referred to religious festivals with no fixed date. Easter, for example is a 'moveable feast'. 'Moveable feast' has subsequently come to mean anything that is not fixed, that can vary or be changed....and that seemed to be us. 'Moveable Feast' is also a collection of stories by Hemingway, of course, set in Paris in the 1930's....and that seemed to fit us as well...The MOVEABLE FEAST line-up is similar to a musette, 'Hot Club de Paris' line-up of that era.


Tell us about 'Washed Up In London'.
That was MOVEABLE FEAST'S first CD. We recorded it in Sparks Studios in Clapham in 1995. The title song is a wry reflection on twenty years of living in London without much personal advancement.

Did you have it in for London when you wrote that song?
No…not at all…it's an an affectionate dig, not a heavy criticism – if anything it's a dig at myself, not London. I think most people have a love/hate relationship with London. I love the mix of people…but who could love the pollution and traffic? The people in London are great…so much energy…so much variety…but everyone pretty much gets along. That's what was so terrible about the underground murders in July 2005. That kind of sectarian carnage shouldn't happen in a place where people by and large mix so well. I think the stunned reaction of the city after the event reflected that.

Are the songs based on real events?
Yes…some of them. 'The Ballad of the Old Dun Cow' is about a pissed night on the Old Kent Road. 'Crashing Out At Stretley Road' is about my time squatting in Kilburn.


There's quite a strong Irish influence in some of the songs.
Yes, I spent years in Camden and Kilburn. One of the early highlights for MOVEABLE FEAST was playing support for the Dubliners at the Greenwich Irish Festival.

Tell us about the second album 'Speak In Dreams'.
In 1999, a Belgian guy, Raphael Rogier-Radoux replaced Rachel on the fiddle – she moved to Spain with her new partner – and we recorded 'Speak In Dreams' at Redfort Studios in Southall. It was produced by the Master tabla player, Kuljit Bhamra,who also features on several tracks – in particular on 'Bajo El Sol', where he plays a thing called the 'talking drum' over a five-four flamenco rhythm. I think that's a great fusion. On that session, we were also joined by Rickie Edwardes who plays sax with the African Jazz outfit, 'Zubop'. Rickie played off and on with us for the next four years. The following year, MOVEABLE FEAST got invited to play at The Shetlands Folk Festival – which was great.

The third CD was 'Blue Mondo A La Carte'.
Yes…it was a return to MOVEABLE FEAST'S rougher sound in some ways. More folky and rough-edged than 'Speak In Dreams'.

You had more changes in the line-up.
Yes, in 2001, MOVEABLE FEAST'S regular drummer, Stuart McGerty was replaced by our current drummer, Alan Pagan – The Mighty Paganini! And MOVEABLE FEAST were joined by Tony Boloni for a couple of years on mandolin and lead guitar. Flossie Warner took a break from the accordion to pursue his medical career.

What have been the gigging highlights for you over the past few years?
MOVEABLE FEAST did two tours of County Cork and County Mayo in Ireland in 2003 and 2004 – they were fantastic. MOVEABLE FEAST always enjoy playing at the National Theatre and at The Black Horse Festival in Sussex and at the Sidmouth Festival. And I suppose Pissarro's in Hastings has become a bit of a home-base for MOVEABLE FEAST over the years. We have a real fan base down there….I think we first started gigging there in 1997

Tell us about the most recent CD – 'Bella Siempre'
That was recorded in 2005 and produced by Mick Greenwood. That was a bigger band sound with guest harmony vocalists and incorporated the whole range of our instruments. I wanted to emphasise the continental influences – 'Les Negresses Vertes', 'Manu Chou'….it's a sound we're not really used to in the UK. It's a big, rhythmic sound…but still with a folk-roots base. Unfortunately, it's almost impossible to gig that size of band – eight or nine-piece. So, we've been doing a lot of gigs as a trio and quartet with our new fiddle-player Lady Di – but MOVEABLE FEAST still try to keep that rhythmic folk-roots base to the music.

Establish MOVEABLE FEAST as much as possible in the Kent and Sussex areas and South London…..we've done a lot of gigs in the West Country, so nearer to base will be good. MOVEABLE FEAST'S new single 'A Moveable Feast' is out in November and a new CD of twelve ballads recorded by myself and featuring Jo Strimmer on bass and harmony vocals will appear around Christmas.

If you have any questions you'd like to put to Moveable Feast, please drop us a line at mitch@moveablefeastonline.co.uk